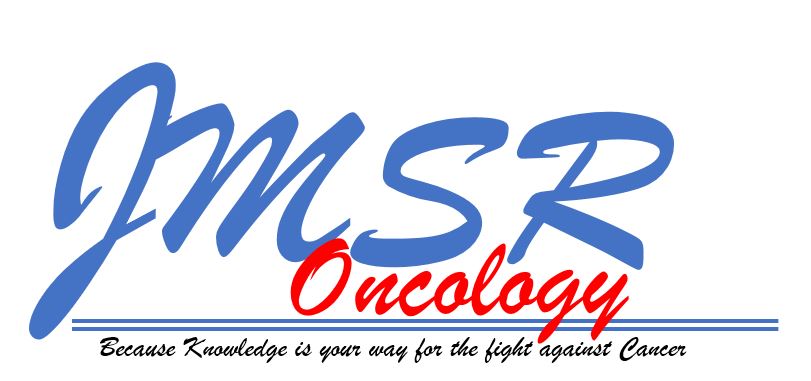 "JMSR Oncology" or « Journal of Medical and Surgical Research in Oncology » is the « Virtual Collection » of « Journal of Medical and Surgical Research » exclusively devoted to Cancerology, bringing all together the articles published in JMSR (clinical cases, literature reviews, original articles, meta-analyzes, etc.) and dealing with a thematic of oncology. It is also accessible from the journal's website.
JMSR Oncology aims to:
– Facilitate and offer free access for doctors and oncology researchers to articles published in JMSR.
– Allow the classification of articles by thematic (CRC, HCC, lung cancer…), authors and geographic repartition.
– Increase the pool and the quality of papers published in oncology; ; this will lead to an increase in the visibility and impact of these articles, their attractiveness and citation scores.
– Regularly establish publication metrics and general orientation for oncology submissions in Journal of Medical and Surgical Research.
If you're interested in Joining JMSR Oncology Boarding Staff , feel free to contact us in jmsr2014@yahoo.com and send your CV with a motivation letter.
If you think that there is an emerging research area in oncology that deserves to be highlighted or an existing national, regional or international field that needs to be deeply investigated, you can send a request for Special Issue and apply for "Guest Editor" position.
Applications from Africa and LMIC countries are highly encouraged.
JMSR & JMSR "Oncology" are partners of Global Campaign HIFA (Health Information for all)

« JMSR Oncology » is an initiative of Dr Cherradi Younes,
The Editor-in-Chief of Journal of Medical and Surgical Research
General
Cancer Incidence in Northern Central Moroccan Patients
Hajar El Hilali, Fatiha El Hilali, Mustapha Samih, Fatiha Laziri.
Pages: 403-409
Download PDF
Human Papillomavirus and Oral Cancer: Systematic Review
Bouzoubaa Sidi Mohammed, O. Medaghri Alaoui, HS Najeh, I. Benyahya
Pages: 599-610
Download PDF
The Impact of the COVID-19 Pandemic on Gastric Cancer Surgery: A Single-Center Study. .
Afig Gojayev, Cemil Yuksel, Ogun Ersen, Haydar Celasin, Ali Ekrem Unal, Salim Demirci
Pages: 879-885
Download PDF
Evaluation of the Decision-Making Mode during Digestive Oncology Multidisciplinary Meetings: a Prospective Study in a Moroccan Center
Chaimae Charoui, Amine Souadka, Saber Boutayeb, Rachida Latib, Laila Rifai, Laila Amrani, Amine Benkabbou, Raouf Mohsine, Mohammed Anass Majbar
Pages: 764-769
doi: 10.46327/msrjg.1.000000000000169
doi url: https://doi.org/10.46327/msrjg.1.000000000000169
Download PDF
Observatory of the Quality of Surgical Procedures for Digestive Cancers in Morocco (Obchir): Protocol of a Prospective, Multicentric Cohort Study (Pilot study)
Amine Souadka, Mohammed Anass Majbar, Khalid El Himdi, Ismail Kassou, Hind Mrabti, Tijani El Harroudi, Mohammed Ahallat, Abdelkader Belkouchi, Raouf Mohsine, Abdelmalek Hrora, Amine Benkabbou
Pages: 748-754
View Download PDF
Lymphoma
Bilateral MALT (Mucosal Associated Lymphoid Tissue) Lymphoma of the Conjunctiva. A Rare Case Report
N. Alami Drideb, H. Eddou, K. Doghmi, M. Mikdame
Pages: 22-23
Download PDF
Biliary Lymphoma Mimicking Cholangiocarcinoma: Case Report
H. Dahmane, MS. Naya, L. Jaiteh, A. Chakiri, HO. Elmalki, M. Chefhcaouni, L. Ifrine, A. Belkouchi, A. Benkabbou.
Pages: 370-372
Download PDF
Radiological Appearances of Primary Central Nervous System Lymphoma (PCNSL)
Y. A. Lamrani, B. Alami, A. Housni, H. El Fattach, M. Boubbou, M. Maaroufi
Pages: 215-222
Download PDF
Anusual Presentation of High Grade Lymphoma
Younes Cherradi,Anass Abir,Ihlam El Hardouni,Omar Benzekri,Said Benhaddou
Pages: 506-506
Download PDF
Primary and Bilateral Non Hodgkin's Lymphoma of the Adrenal Gland: -About Two Cases Report-
El Amine Ratbi, Ahmed Jahid, Younes Cherradi, Abdelkader Belkouchi
Pages: 744-747
Download PDF
Breast Cancer
Radiation Induced Triple Localization of Squamous Cell Carcinoma of The Esophagus in a Woman Previously Treated for Breast Cancer
M. Sayed Naya, A. Benkabbou, H. Hachim, B. Serji, H.O. Elmalki, R. Mohsine, L. Ifrine, A. Belkouchi, A. Souadka
Pages: 19-21
View Download PDF Download XML Full HTML
Dermatofibrosarcoma protruberans of the breast skin simulating mammary carcinoma:
A case report
K. Serrar, I. El kari,M. Tbouda,Y. Chaoui,O. Azdad,A. Jahid,F. Tijami, H. Hachi
Pages: 461-463
View Download PDF Download XML Full HTML
Clinicopathologic Features and Molecular Subtypes of BreastT Cancer in 390 Patientsin Fez-Meknes Region- Morocco
Sanae Chahbouni, Afaf Amarti, Nawal Hammas, Leila Chbani, Hind Elfatemi
Pages: 392-396
View Download PDF Download XML
Update of The Recommendations for HER2 Status Determination in Breast Cancers : ASCO/CAP 2013 and GEFPICS 2014
Hafsa Chahdi, Mohamed Allaoui, Adil Boudhas, Mohamed Tbouda, Mohamed Reda El Ochi, Amal Damiri, Abderrahmane Al Bouzidi, Mohamed Oukabli
Pages: 265-266
View Download PDF Download XML
Metastasic Location of Breast Carcinoma in the Mandible
Akram Belmehdi,Saliha Chbicheb
Pages: 741-742
View Download PDF Download XML
Colorectal Cancer
Acute Intestinal Obstruction Revealing Synchronous GIST In A Small Bowel Diverticulum and Mucinous Adenocarcinoma of the Colon: A Case Report
M. R. El Ochi, A. Jahid, A. El Ktaibi, K. Znati, F. Zouaidia, Z. Bernoussi, N. Mahassini
Pages: 129-132
Download PDF
Predictive Factors of Oncological and Survival Outcome of Surgery on Mid and Low Rectal Adenocarcinoma in Morocco :Single Center Study
H. Essangri, MA. Majbar, A.Benkabbou, L. Amrani, Z.Belkhadir, A. Ghennam, B. Al Ahmadi, A. Bougtab, R. Mohsine, A.Souadka
Pages: 627-635
Download PDF
Colonic Adenomatous Polyposis: Diagnostic Difficulties and Therapeutic Implications in a Surgical Setting in Dakar
Abdourahmane Ndong, Adja Coumba Diallo, Pape Mamadou Faye, Mamadou Ndiaye, Ahmed Diouf, Abdou Niasse, Magatte Faye, Jaafar Aboutalib Thiam, Ibrahima Souleymane Sitor Sarr, Yacine Seye, Mohamed Lamine
Pages: 660-662
Download PDF
Resuming Elective Oncologic Surgery After CoVID-19 Outbreak: What Precautions Should be Taken?
Anass M. Majbar, Amine Benkabbou, Raouf Mohsine, Amine Souadka
Pages: 724-733
doi: 10.46327/msrjg.1.000000000000161
doi url: https://doi.org/10.46327/msrjg.1.000000000000161
Download PDF
Evaluation of the Decision-Making Mode during Digestive Oncology Multidisciplinary Meetings: a Prospective Study in a Moroccan Center
Chaimae Charoui, Amine Souadka, Saber Boutayeb, Rachida Latib, Laila Rifai, Laila Amrani, Amine Benkabbou, Raouf Mohsine, Mohammed Anass Majbar
Pages: 764-769
doi: 10.46327/msrjg.1.000000000000169
doi url: https://doi.org/10.46327/msrjg.1.000000000000169
Download PDF
Non-operative Management of Benign Colorectal Anastomotic Stenosis in Patients Undergoing Elective Surgery for Non-Metastatic Primary Rectal Cancer
Ümit Mercan, Ogün Er?en, Cemil Yüksel, Ömer Yalk?n, Serkan Akbulut, Ekrem Ünal, Salim Demirci
Pages: 792-797
DOI: 10.46327/msrjg.1.000000000000172
DOI URL: https://doi.org/10.46327/msrjg.1.000000000000172
Download PDF
Clinical Outcomes of Two-Stages Delayed Colo-Anal Anastomosis: A Literature Review
Anass Mohammed Majbar, Amine Benkabbou, Laila Amrani, Raouf Mohsine, Amine Souadka
Pages: 934-940
Download PDF
Intersphincteric resection for rectal adenocarcinoma: technique, indications, and results
M.A Majbar, M. Elalaoui, M. Raiss, F. Sabbah, A. Hrora, M. Ahallat
Pages: 24-27
Download PDF
Comparison of Short-Term and Long-Term outcomes of Laparoscopy Versus Laparotomy in Rectal Cancer: Systematic Review and Meta-analysis of Randomized Controlled Trials
Lina Boualila, Amine Souadka, Zaineb Benslimane, Laila Amrani, Amine Benkabbou, Mohsine Raouf, Mohamed Anass Majbar
Pages: 948-965
DOI: 10.46327/msrjg.1.000000000000197
DOI URL: https://doi.org/10.46327/msrjg.1.000000000000197
Desmoid Tumors of the Abdominal Wall and the Therapeutic Management: a Case Report.
H. Hachim, M. Alaoui, M. Mountassir, M. A. Majbar, F. Sabbah, M. Raiss, A. Hrora, M. Ahallat
Pages: 166-170
Download PDF
General
Intracardiac Askin Tumor: an Unusual Form of Presentation
R. Stiha,Z. Lakhal,A. Amine,R. Khmamouche,M. Ichou,M. Raissouni,A. Benyass
Pages: 135-137
Download PDF
Desmoid Tumors of the Abdominal Wall and the Therapeutic Management: a Case Report.
H. Hachim, M. Alaoui, M. Mountassir, M. A. Majbar, F. Sabbah, M. Raiss, A. Hrora, M. Ahallat
Pages: 166-170
Download PDF
Juvenile Granulosa Cell Tumor: a Neo-natal Revelation.
Aboubacar Sidiky N'DIAYE, Yahdi Viche, Nadia Cherradi, Rachida Dafiri
Pages: 258-260
Download PDF
Proton Magnetic Resonance Spectroscopy In Brain Tumors: Literature Review
Badreddine Alami, Youssef Alaoui Lamrani, Said Boujraf, Abdelkhalek Housni, Meriem Boubbou, Mustapha Maaroufi
Pages: 345-352
Download PDF
Malignant Solid Tumors in Children in the Region of Fez (Morocco): Epidemiological and Histopathological Profile
Nawal Hammas, Asmae Mazti, Youssef Abouabdillah, My Abderrahmane Afifi, Sarra Benmiloud, Mustapha Hida, Samira Elfakir, Laila Chbani, Hind El Fatemi
Pages: 475-482
Download PDF
Tumoral Calcinosis: a Poorly Known Disease.
Hassan Doulhousne, Redouane Roukhsi
Pages: 528-528
Download PDF
Gastric Schwannoma: Case Report and Review of The Literature
Wadie Sabbar, Ouijdane Zamani, Youssef Omor, El Amine Ratbi, Anass Majbar, Farid Sabbah, Mohamed Ahallat, Nabil Moatassim Billah
Pages: 261-264
Download PDF  
Retropritoneal Mullerian Cyst: Report of a Case.
A. Riany, A. Majbar, M. Alaoui, M. Raiss, F. Sabbah, A. Hrora, M. Ahallat
Pages: 163-165
Download PDF